UNFPA: Delivering a world where every pregnancy is wanted,
every childbirth is safe and every young person's potential fulfilled.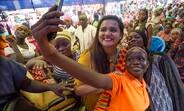 13 February 2018
Kayayei Girls welcome UN Youth Envoy to the Agblogboshie Market in Accra
The UN Secretary-General's Envoy on Youth, Jayathma Wickramanayake, visited the Agblogboshie Market in Accra shortly after arriving in Ghana. Her visit to the market was to meet with the Kayayi girls. The Kayayi girls are dispersed across various cities and markets in Ghana, and their primary occupation is to carry goods for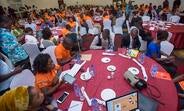 Right now, the combined wealth of the world's 2,473 billionaires, as calculated by...

When a girl reaches age 10, her world changes. A flurry of life-changing events pulls...
No vacancies currently available