"If you can read, thank a teacher, if you are alive today, thank a Midwife" – Togbui Agbotadua Kumassah, Secretary of the Anlo Agbotaduawo Traditional Council. 
The International Day of the Midwife (IDM) is recognized around the world as a celebration of Midwives and their contribution to women's and newborns' health and wellbeing. The International Confederation of Midwives (ICM) formally launched the idea of the 'International Day of the Midwife' in 1992 after suggestions and discussions with Midwifery Associations around the world. Every year, a campaign theme serves as a call-to-action to motivate Midwives to get involved and champion their own work. This year, the theme 'Follow the Data, Invest in Midwives', was chosen to draw attention to the need for Governments and non-state actors to invest in training more midwives for the improvement of maternal and newborn health outcomes especially in developing countries.
In Ghana, the 30th celebration was launched at the Nurses and Midwives Training College (NMTC) in Keta, Volta Region on the 5th of May. The event was organised by the Ministry of Health (MOH) in collaboration with the Ghana Health Services (GHS), Ghana Registered Association of Midwives (GRMA) and in partnership with UNFPA Ghana and the Catholic Relief Services (CRS).
In her solidarity message, the Deputy Country representative of UNFPA Ghana, Dr. Agnes Kayitankore, expressed concerns about the inadequacies within the maternal healthcare system in Ghana and encouraged GHS and MoH to continue its good work in forging ahead and ensuring better health services for all women and children. She underscored UNFPA's commitment to supporting the health and wellbeing of all women, girls and children and admonished others to join in the fight against maternal mortality.
The highlight of the launch was the award ceremony, in which twenty-one midwives were awarded for their exemplary work and commitment to saving lives. Rosemary Delali Gavor, the Best Midwife in the Ashanti Region, was specially awarded for her efforts in transporting a woman in labour in need of urgent healthcare to the hospital, using a broken door as a stretcher.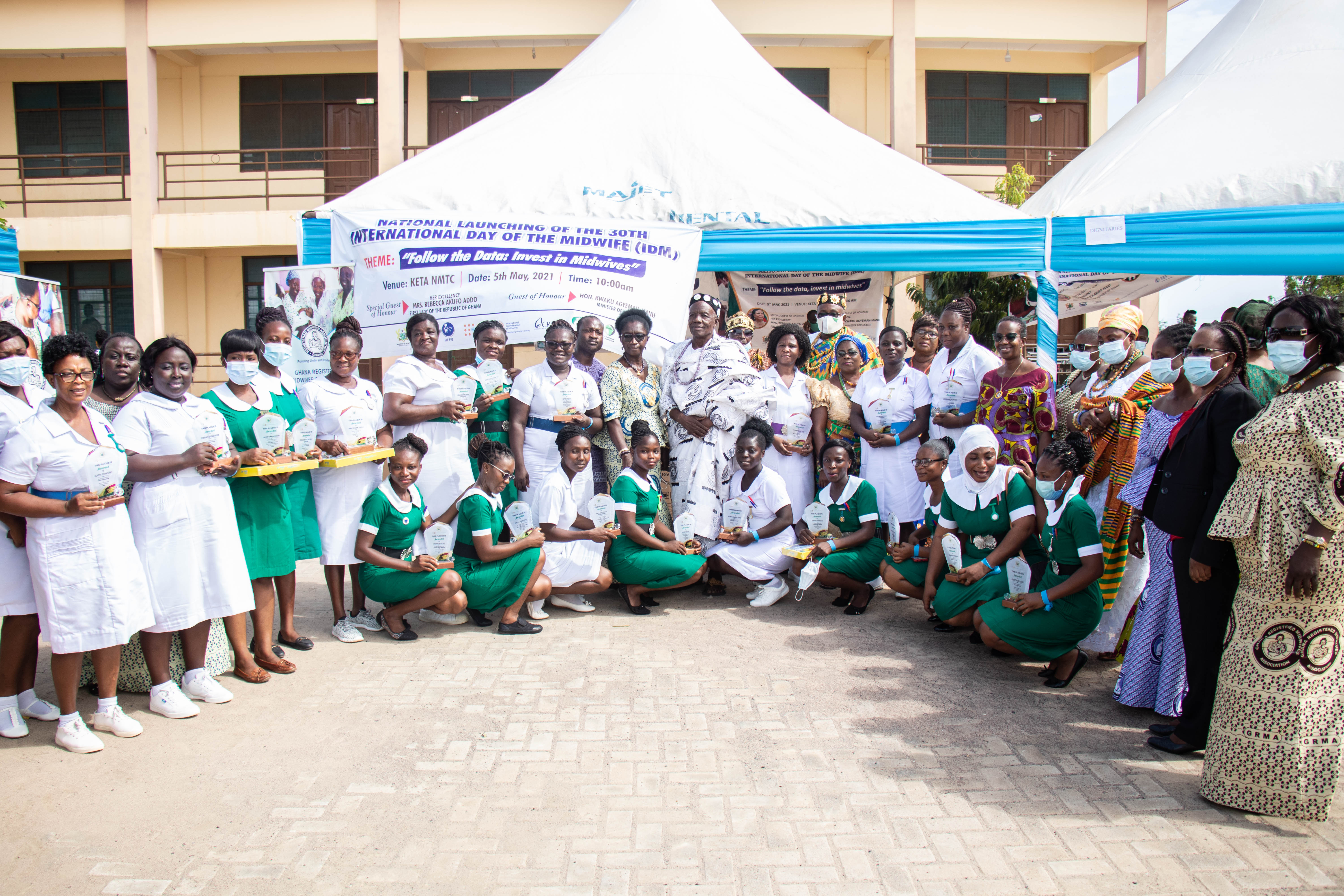 At the launch were Dr. Barnabas Yeboah a representative from MOH, The Chief Nursing and Midwifery Officer for the Volta Region, Representatives from the CRS, Executive Director of Hope for Future Generations (HFFG) Ghana, Ms Cecilia Senoo a midwife by profession herself, the Principal Keta, NMTC, Rejoice Aheto, the President of Nation Association of Registered Midwives, Ghana, MsMary Fosu, Chiefs and Queen mothers of the Keta  and surrounding areas in the Volta Region.