Ensuring rights and choices for all
18 September 2018
First Presidential Open House on Women Held in Accra
The La Palm Royal Beach Hotel in Accra on Friday 14 September 2018, saw the largest number of gender activists across many demographics, including: policy makers, queen mothers, government officials, diplomats, NGOs,...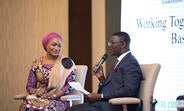 13 August 2018
Access Bank Ghana Raises Funds for Obstetric Fistula
Access bank Ghana limited  and Kaysens Group have launched an Obstetric Fistula (OF) project dubbed 'Fist Against Fistula Initiative', with the aim of raising funds to repair women with fistulae in Ghana. At a press launch on Tuesday 7th August 2018, held at the Alisa Hotel in Accra, the Managing Director of the Bank, Mr

Adolescents and young people are entitled to decent livelihoods; however, girls face...

Right now, the combined wealth of the world's 2,473 billionaires, as calculated by...
No vacancies currently available