Sexual & Gender-Based Violence which manifests itself in different forms including rape, intimidation, domestic violence, physical assault and sexual assault among others, has devastating effects on individuals, families and nations at large.
Ending Sexual & Gender-Based Violence is crucial for creating an enabling environment to achieve some of the Sustainable Development Goals (SDGs), particularly, Goal 3 and 5, which are 'Good Health and Well-Being' as well as, 'Gender Equality', respectively.
Office of the Second Lady of Ghana, H.E. Samira Bawumia, in collaboration with UNFPA launched the Coalition of Persons against Sexual and Gender-Based Violence and Harmful Practices (CoPASH) with the aim of increasing the response to SGBV.
As part of the initiative, the Ghana Police Service with support from UNFPA had a capacity building programme for regional and district coordinators of Domestic Violence and Victim Support Unit (DOVVSU), who have a direct mandate and are primary stakeholders when it comes to prosecuting offenders and protecting victims of Sexual And Gender-Based Violence.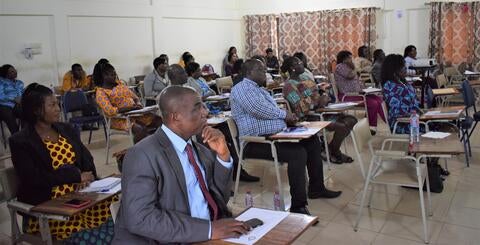 Mrs Bawumia, who joined the training session as they wrapped up, encouraged them to read the DV Act constantly and apply it when managing cases. She further enjoined them to pay attention to the new trends and best practices in handling SGBV cases. "You are the first point of contact for victims, so please receive them with a human touch so they do not relive the story" she echoed.
Chief Superintendent (Supt) Owusuwaa Kyeremeh, the National coordinator of DOVVSU said, the training was aimed at improving the skills of the Coordinators in handling SGBV; taking into consideration the current trends.  She said the Officers were also reminded of their commitment to the ethics and professionalism of the Ghana Police Service.
In an interview Supt Alice Awarikaro; the DOVVSU coordinator in the Greater Accra Region and a participant, about her views on the training, she said, 'This training is very timely particularly the digital aspect and the electronic investigation. We are currently in an era of advanced technology and for you to be effective and efficient, you need to also upgrade yourself with the digital knowledge. I can confidently gather information and also pick up some evidence from social media in determining some cases."
Another participant, Supt. George Appiah Fosu, Central Regional DOVVSU Coordinator also said the training has refreshed his knowledge on the legal provisions meant for protecting victims of abuse. 'We were warned not to bring information from digital sources in such ways that the courts cannot accept. So, we learnt how to clone information and to strictly apply the processes in our work.' 
Participants took lessons in Youth Friendly Policing, Sexual & Reproductive Health, Investigating Sexual Abuse Cases, Investigating Sextortion and Human Rights Violation associated with SGBV.