UNFPA Ghana in efforts to continually promote the Programme of Action of the International Conference on Population and Development, has organized a pre-conference skill building session on the theme, "The Power of Choice" for adolescents between the ages of 10-19 years. The conference precedes the 5th African Health Economics and Policy Association Biennial Scientific Conference in Ghana.
The activity is aimed at reinforcing every nation's realization of reproductive health and rights as an integral element in achieving the Sustainable Development Goals.
 250 adolescents, including those in and out of school, refugee girls, persons with disabilities and kayayei, with varied backgrounds in terms of population, health and development participated. It was to intensify Comprehensive Sexuality Education (CSE) and Sexual Reproductive Health (SRH) as a fundamental tool to dismantle barriers inhibiting free and informed choices.
Welcoming the participants present, UNFPA Country Representative, Niyi Ojuolape stated 'this conference is to ensure that all adolescents have access to the appropriate education and information that will enable you to achieve your full potentials. Through the skills building training, you will be equipped to make informed decisions, he added".
 Further, the adolescents were engaged in a video screening activity on SRH, HIV and Sexual and Gender-based prevention (SGBV) which followed a plenary sessions to discuss the issues.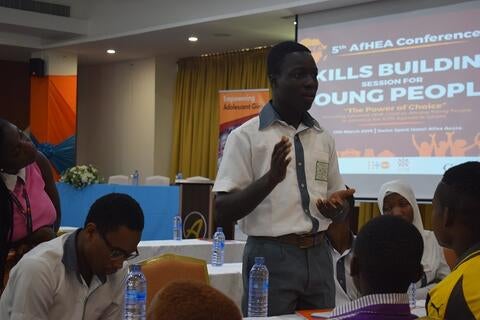 In various focused group discussions, they were tasked to analyze and generate solutions regarding these areas; the kind of strategies that can be employed to reach and involve marginalized and underserved adolescents, how the government, civil society organizations as well as private sector can increase investment in health especially SRHR and SGBV alongside, the role other stakeholders can play in increasing investments. It also included discussions on the innovative means by which adolescents can access SRH information and services.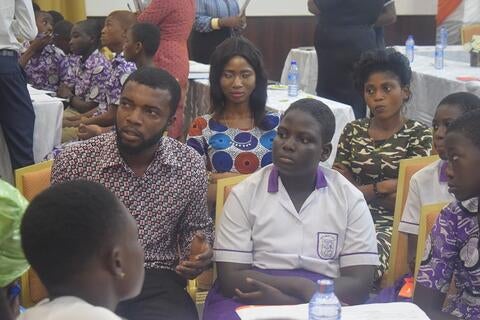 Additionally, there were motivational skills and mentoring sessions to encourage positive behavioral change in the adolescents and influencing them to enhance their potentials to achieve their dreams.
Dora Mensah, 13 years, shared her experience, "this is my first experience in a conference that focuses on adolescent girls and boys education aside the classroom. Today, I learnt about the rights I have as a girl and how in any sexual situation I must mean the no I say".
At the end of the pre-conference the adolescents  called on governments and all stakeholders to  include young people in policy formulation, implementation, monitoring and evaluation of SRHR and SGBV related issues as well as strengthening the financing of adolescent and youth SRHR focusing on data collection,  education and health budgets. 
They also called for increase in facilitating adolescents' access to SRHR information and services through innovative channels in schools, communities and health providers. The conference was funded by the Canadian government under the Adolescent Girls Programme.