The recent violence that erupted between the Konkomba and Chokosi ethnic groups led to the loss of 28 lives. Farms and properties were burnt down and bout 5,000 inhabitants of the small towns of Tigenga and Naduni, the hub of the conflict in the Chereponi district in the northern region were forced to flee their homes to seek shelter and protection in neighboring districts.
UNFPA as part of its core duty to respond to humanitarian crisis, visited two refugee camps in the Bunkpurugu and Yunyoo Districts of the Northern Region where these displaced people are sheltered. Together with the National Disaster Management Organization (NADMO), UNFPA and other UN agencies UNICEF, UNHCR, and IOM) and World Vision carried out this intervention to undertake an assessment of the impact and critical needs of host communities, review the situation of displaced persons and look at peace building and conflict mitigation efforts. They also ensured a comprehensive assessment of all affected locations and access the reproductive and maternal health needs of the displaced persons in these camps.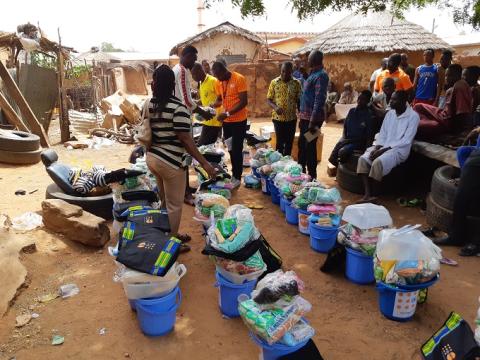 The team visited, Chereponi, Gushegu, Bunkpurugu and Gbingbani Camps in Yunyoo. During the visit, UNFPA donated hygiene kits which tailored to the needs of the affected persons to them.  Contents of these kits, include basic sanitary items for everyday use such as tooth paste and brushes, chewing stick, panties, sterile towels, cot sheets, baby dresses, male condoms, diapers to mention just a few. Those for the pregnant women contained additional items which both pregnant and nursing mothers require.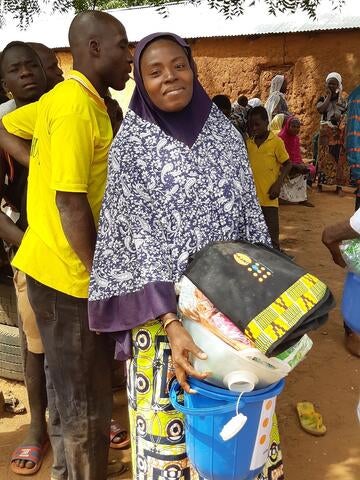 The affected persons were women including pregnant women, children and young people as well as men and with limited access to food and healthcare services.