Issues affecting women and girls, including ending maternal deaths, ensuring equal access to education and active participation in economic and social life, happens to be some of the areas in which UNFPA supports Governments all over the world.
In Ghana, UNFPA works with the Ministry of Gender, Children & Social Protection (MoGCSP), which 'is mandated to coordinate and ensure gender equality and equity, promote the survival, social protection and development of children, vulnerable and excluded and persons with disability and integrate fulfilment of their rights, empowerment and full participation into National development.'
As part of courtesy visits to various partners UNFPA works with in Ghana, the Representative a.i., Mr. Barnabas Yisa, called on the office of the Chief Director of MoGCSP, Dr. Afisah Zakaria today to commend the Ministry for their efforts in working to address gender gaps in all facets of Ghanaian society.
Mr. Yisa used the opportunity to highlight the need to pay attention to adolescent girls. He said, 'Adolescent girls constitute a crucial mass of the population whose needs we must cater for'.
On her part, Dr. Afisah Zakaria expressed the willingness of MoGCSP to strengthen its existing collaboration with UNFPA to end child marriage, while addressing a myriad of other gender issues affecting women in Ghana, as well as other vulnerable groups like persons with disabilities. 'My outfit is committed to the work of UNFPA in areas like the functioning of the Orange Support Centre', she added.
Both bodies hoped to continue working towards the smooth implementation of the remaining part of the 7th Country Programme and also, the 8th Country Programme when it is approved by the UNFPA Executive Board.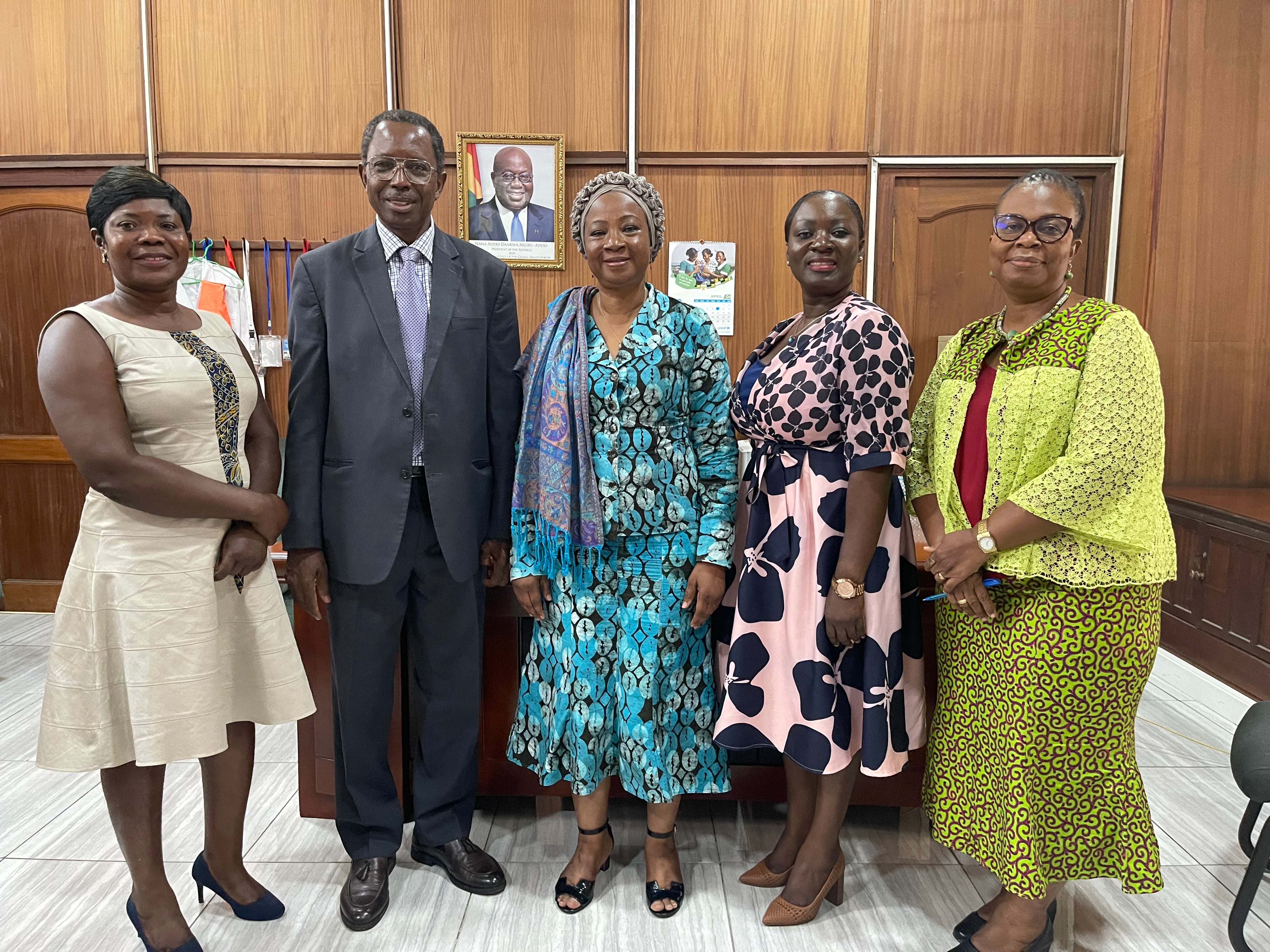 The UNFPA Ghana Rep a.i. with the Chief Director, MoGCSP and some team members.