"There is a sense of hope in the African youth" said, Dr. Eugene Owusu in an opening remark at the 2nd African Youth SDGs Summit in Accra. Representing the President of Ghana, His Excellency, Nana Akufo-Addo, Dr. Owusu noted that the government of Ghana was committed to translating ideas into implementation and practicable solutions.
The African Youth SDGs Summit series which started in 2017, is the largest gathering platform for youth from across the African continent and beyond to discuss and assess the status of implementation of continental commitments to the Global Goals. It has also proved a veritable platform for sharing ideas, critiques, results and challenge national governments to deliver on their promise.
Expectedly, it brought together high level policymakers such as Ghana's Minister for Planning, Prof. Gyan Baffour, UN Resident Coordinator, Ms. Christine Evans-Klock, UNFPA's Regional Director, Mabingue Ngom, UNFPA's Country Representative, Niyi Ojuolape, and Titilayo Fafoumi of Pan-African Youth Leadership, Benin.
Ghana's Minister for Planning. Prof. Gyan Baffour noted that, as a government, they were committed towards the SDGs and enjoined citizens and civil society organisations to hold the government to account on their stated promises. The free senior secondary school education which was obtainable countrywide was a demonstration of the government's commitment to young people, ensuring that boys and girls who might have otherwise dropped out of school due to financial reasons would remain in the classroom.  He added further that the commitment of Ghanaian government towards the SDGs would be strengthened by the degree to which they are held to account by citizens, civil society groups and private partners.
The UN Resident Coordinator expressed delight about Ghana's ability to mobilise many young people to attend the summit and for assisting in the institutional framework that made the summit a reality. "We are now in Year-3 of the youth SDGs, so it's fair to hammer on action and results," she noted, stressing on the notion that SDGs are about inclusive development, and carrying along all those who stand at risk of being left behind. Overcoming uneven progress was therefore a paramount goal going forward if we are to promote prosperity for everyone, she stressed, as this would ensure sustainable development, laying the foundations on which the coming generations can also be prosperous. Working with schools, employers, and establishing training centres to train young people for new jobs in the digital era so their education can be more relevant to the needed skills was also a recommendation she made in the course of her speech.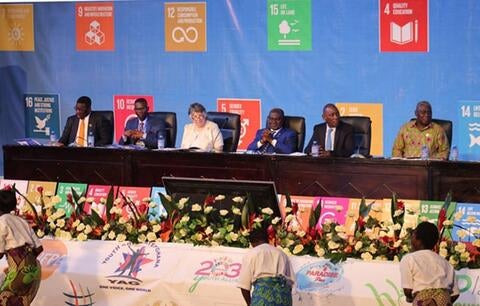 Soon after her remarks, the attention of the hall was turned to a video recording of the UN Secretary General on Youth, Jayathma Wickramanayake's message on the occasion, as she was unable to physically attend the event. "This Summit," she noted, "is an important step in making the Youth Strategy 2030 a reality, as it would provide the institutional frameworks of reaching and benefiting the marginalised and underrepresented groups."
The UNFPA's Regional Director, Mr. Ngom noted that 64% of citizens in West and Central Africa were under 24 years of age, an age bracket that is set to remain constant in the next 50 years due to certain demographic trends. He noted however, that Africa can only thrive if young people thrive, hence SDGs cannot succeed unless the right investments are made in the lives of young people.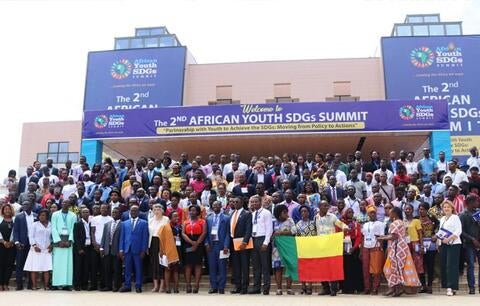 The session ended with group photographs with the high level delegate with young people at the Summit, who boisterously contributed in the various plenary sessions that took place afterwards.