Achieving zero Sexual & Gender-Based Violence exists as a transformative goal of the United Nations Population Fund (UNFPA), and in line with this, the agency has exploited a number of avenues to make this goal a reality. One of such actions was the establishment of a Coalition of Persons against Sexual & Gender-Based Violence/HPs (CoPASH) in August 2018.
CoPASH was thus launched by the Office of the Second Lady of Ghana with collaboration from UNFPA. Ever since, it constituted for itself an advisory board to have oversight responsibility over the activities of the group. And also, in keeping with the spirit of coordination which H.E. Samira Bawumia—the convener of the group advocates for, an inaugural general body meeting was held at the Movenpick Ambassador Hotel in Accra, to allow members of the public to offer their ideas on the steps to take to effectively tackle SGBV.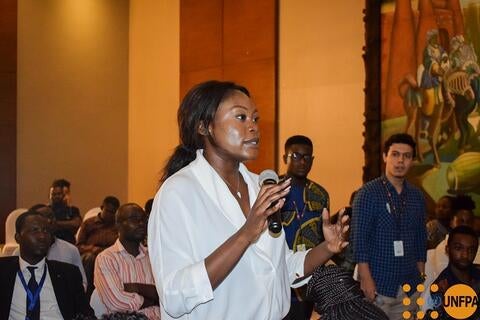 At the inaugural general body meeting, a platform was provided for all members to interact freely and proffer ideas which CoPASH could implement to actualize its vision of ending SGBV in Ghana. Participants made a number a submissions including: "There is the need to change entrenched mind-sets based on culturally assigned gender roles if SGBV is to be ended", "Avenues for reporting incidents of SGBV, such as CHRAJ and DOVVSU must be strengthened and made more friendly to the public" and that, "Members of CoPASH need to commit to following up on issues in SGBV to the very end, to ensure that they are rightly addressed", among others.
Speaking at the CoPASH inaugural general body meeting, Mrs. Bawumia challenged participants saying "...we can change our society together if there's coordinated effort by all of us to ensuring that all human rights of individuals are respected and the fight against Sexual and Gender-Based Violence is effective in Ghana".  
Also present at the inaugural general body meeting was the acting UN Resident Coordinator in Ghana, Madam Sylvia Ekra-Lopez, Mr. Niyi Ojuolape, Country Representative of the UNFPA, Ghanaian Reggae-dancehall artiste, Samini who shared a message of solidarity, and other members of NGOs and the general public. The meeting ended on a high note after fluid discussions which led to consensus building on the next steps that were to be taken by CoPASH toward ending SGBV in Ghana.