The Presidential Open House on Women in Africa was organized by the President's Gender and Development Initiative Africa (GADIA) and held under the theme, "Women's Voices for Africa's Development."  Contemporary issues on maternal health, sexuality education for girls, family planning, economic empowerment and political participation of women were discussed.
UNFPA Representative Niyi Ojuolape, commended the efforts of the government and gender activists for their varied roles in supporting developmental efforts aimed at improving the lot of women and girls in the Ghanaian society.  Mr. Ojuolape said "As much as I commend you, I also plead like Oliver Twist asking for more, to invest in the young girl i.e. the 10 year old whose real life is just beginning. If we provide them with the appropriate knowledge, skills, information and services, Ghana will have very empowered women, knowledgeable and skilled to turn the fortunes of this country round.'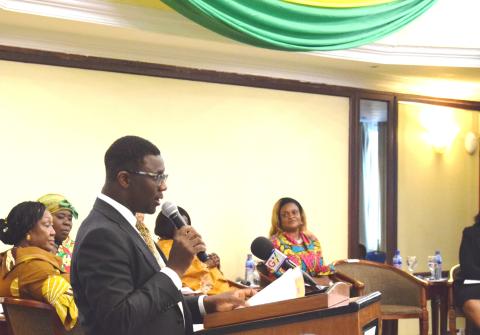 The Second Lady of the Republic of Ghana, H.E. Samira Bawumia used the  opportunity explain what  the Coalition of Persons against Sexual & Gender-Based Violence and Harmful Practices (CoPASH) initiative aims to do and appealed to all present to support the initiative.  She said, 'It is important for us to put gender and development into context to better highlight the need for stronger women voices in Africa's development. Working together, we will be promoting the dignity of the Ghanaian woman'.
Ms Comfort Oduro Nyarko, founder of Makola Foundation, whose mission is to equip large numbers of traders especially the women folk, and small scale enterprises with scientific methods of operating business for national growth, called for the creation of an agency by the government to specifically grant women access to financial resources to support for their ideas and skills as they embark on the journey of entrepreneurship.
GADIA is the President's initiative and mechanism for championing women and gender-related issues as the AU gender champion. Its objective is to promote economic empowerment and political participation of women.