Youth development is at the forefront of every country's agenda and Ghana is of no exception. This informed UNFPA's partnership with the National Youth Authority in Ghana to organize a Youth parliamentary proceeding to celebrate International Youth day 2019 in Akuapem-Mampong in the Eastern Region
The event gathered various students, youth groups and stakeholders in Ghana including the Vice President, Dr. Mahamudu Bawumia, Ministers of State and traditional leaders.
Delivering the keynote address for the occasion, the Vice President, Dr. Bawumia said Ghana can lead the world if it makes the right investment in education. He highlighted this point by referring to the example of students of the Methodist Girls SHS in Mamfe-Akuapem, who made Ghana proud with their triumph at the World Robotics Championship held in the USA. 'We believe in the ability of young people, hence the introduction of free SHS education to give equal opportunity to Ghanaian youth', he concluded.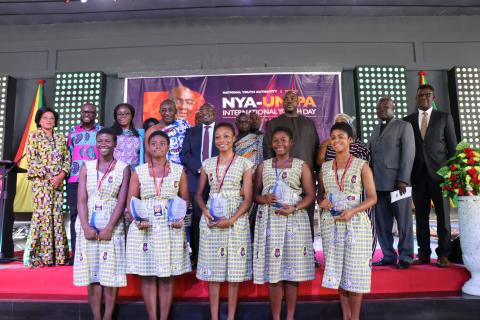 Encouraging the youth to be innovative he said, "let us not underestimate our abilities, you can reach for the skies. You should never say it is impossible". He added that, government was committed to providing the necessary infrastructure for improved education like increasing internet connectivity in Universities and Senior high schools.
In his address, UNFPA Country Representative, Mr. Niyi Ojuolape remarked that UNFPA at the global level, led by the Executive Director, has affirmed their commitment to helping young people realize their full potential in life by unveiling a new youth strategy entitled "My body, My life, My World!" on this year's International Youth day.
On youth engagement and achieving the International Conference on Population and Development, (ICPD) promise, he made a call on Government to keep the promises they made to women and young people 25 years ago in Cairo.
Also, the Minister for Youth & Sports, Hon. Isaac Kwame Asiamah urged the youth to utilize technology, owing to its educational benefits. He said the new youth strategy encapsulates the inputs of young people across Ghana including Persons with Disability (PWDs).
The Minister of Education who was summoned by Ghana's Youth Parliament to present the status of education in the country, was represented by the Deputy Minister, Mrs. Babara Ayisi Archer. She said the educational sector has just rolled out a new curriculum for primary schools to improve the life of youth.  She said the Government is making every effort in achieving the Sustainable Development Goals by putting in strategies that will make education more accessible to all Ghanaian youth, irrespective of their socio-economic conditions.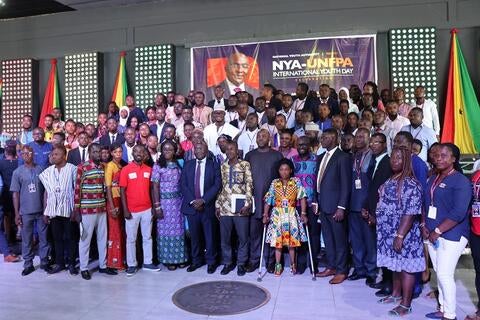 The event was held under the theme "the role of the youth in contributing to quality education in Ghana".