United Nations Population Fund- UNFPA Ghana has for the past five years been advocating the Ghana Police Service to include sexual and gender-based violence (SGBV) as a subject in the training curriculum of the newly recruits.
Violence against women and girls constitutes one of the most prevalent human rights violations in the world. It knows no social, economic or national boundaries. It undermines the health, dignity, security and autonomy of its victims, yet it remains shrouded in a culture of silence.
According to an analysis of statistics from Domestic Violence and Victims Support Unit (DOVVSU) of the Ghana Police Service, approximately six women are likely to be raped every week. Victims of violence can suffer sexual and reproductive health consequences, including forced and unwanted pregnancies, unsafe abortions, obstetric fistula, sexually transmitted infections including HIV, and even death.
UNFPA which has one of its transformative results as a zero tolerance for SGBV and harmful practices, worked with the Ghana Police Service to develop a training manual on Gender Base Violence and Sexual & Reproductive Health and Rights for use at the various police training schools and administrative offices in 2015. This led to SGBV being finally integrated in to the school curricula and also made an examinable subject.
At the 49th Cadet Officers' Graduation Parade held in Accra on the 13th of September 2019, three officers who exceled in the exams for the first time on SGBV were awarded by the UNFPA for their excellent performance in the newly introduced subject.
The award is in line with UNFPA's commitment towards ensuring all incidences of gender-based violence are brought to zero in Ghana through interventions like strengthening of institutions.
UNFPA Country Representative, Niyi Ojuolape, speaking at the award ceremony, reiterated the organisation's commitment for zero tolerance and total eradication of all forms of SGBV. 'It is particularly pleasing to us that, the gold award was won by a male officer, as it is an indication that men when meaningfully involved, can join hands to end violence against women and girls' he added.
C.O. Edmund Agyekum took the first position with a gold prize while C.O. Sunrise Leocardia Adika and C.O. Caroline Addo-Sunu, had silver bronze prizes, respectively.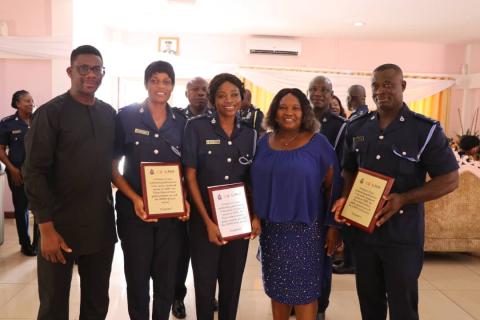 In an interview with National Coordinator of DOVVSU, Supt. Evelyn Borbor, she said 'This is a dream come to live and this I am very confident will in the near future reduce the incidence of SGBV". Knowledge impacts decision and vicissitudes behaviour in the long run Supt. Borbor echoed.