Following the Legislators and Delegates conference, a collaboration between UNFPA and Members of Parliament to end domestic violence and teenage pregnancy, the member of Parliament for the AAK Hon Elvis Donkor with the assistance of his people mobilized communities within Wiomua District to establish the first community Orange Ambassadors Club.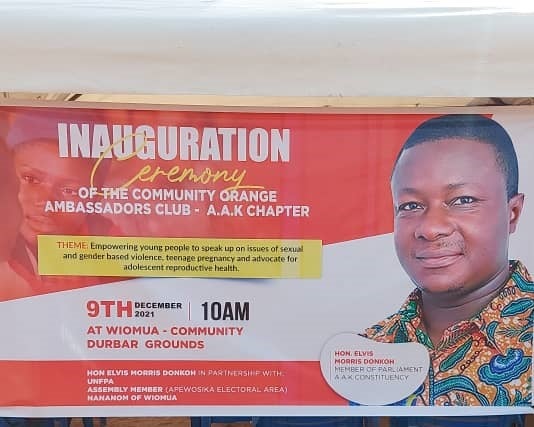 In a well-organized event to commemorate the 16 days of activism on Thursday, 9th of December 2021, a hundred young people were inaugurated as Community Orange Ambassadors in the Wiomua District in the Central Region as part of celebrations. The event took place on at the Wiomua community Durbar grounds and it was agreed by all that this community chapter will be known as the AAK Chapter.
The theme for the inauguration was Empowering young people to speak up on issues of Sexual and Gender- based violence, teenage pregnancy and advocate for Adolescent Reproductive Health.
Speaking at the inauguration, the Central Regional Minister, Marigold Assan acknowledged that the inauguration of the Orange Ambassadors Club was borne out of the Legislators Conference under the auspices of UNFPA Ghana.
She shared that the advent of the Orange Ambassadors would contribute immensely to help reduce teenage pregnancies in the community. Also, she used the platform to urge institutions working in the area of adolescent reproductive health to collaborate and help reduce the incidence of teenage pregnancies in the region.
The Chief of Wiomua, Odikro Kofi Dadzie was elated and grateful to UNFPA Ghana for the establishment of the initiative. He expressed that it was timely and appropriate at a time the region is ranked third nationally on the regional teenage pregnancy chart. He recounted that last year, 10,301 cases were recorded which did not augur well for the development of the region and the country.
In her inaugural address, UNFPA Ambassador Ms. Claudia Lumor expressed her gratitude to the Chief and people of Wiomua for opening their community to UNFPA. She urged parents, community gatekeepers to assist the young people so collectively they can achieve zero SGBV and zero maternal deaths in the AAK constituency in the central region.
Ms. Lumor expressed her gratitude to the young ambassadors and applauded their courage for choosing willingly to be advocates in their community.
The Community Orange Ambassadors is an initiative to empower young people to speak upon issues of sexual and gender-based violence, teenage pregnancy and advocate for adolescent reproductive health.
The event was well attended by Traditional Leaders, Assembly Members, Pastors in the various communities, representatives from schools and some civil society organizations.