"I will never forget when I understood the importance of a girl child, it is the memory I treasure. I always dream of becoming a Neurosurgeon in the years ahead", said Salamatu Yahaya, one of the hundred Muslim girls in a day's mentoring session organized by UNFPA under the theme "You can count on me". 
It is said that students often lose interest during lecture-style teaching. Interactive teaching styles promote an atmosphere of attention and participation, making it interesting and exciting. Such was the style employed during the mentoring session of 100 Muslim adolescent girls aged between 12 and 19 years on the margins of National Faith Based Organization Conference held recently in Accra.  It was exciting listening to young girls expressed their intriguing opinions and sharing their goals, aspirations, challenges and fears openly.
This interactive mentoring session with the wife of the Vice President of Ghana Samira Bawumia and other mentors aimed at powering the adolescent girl, saw students from the Ghana Lebanon Islamic Senior High School participating actively with the ultimate purpose of removing limitations and barriers that impede them from realizing their full potentials. Nafisa one of the mentees who wanted to be a blogger had an offer to be mentored by an online participant (Jemila #DigitalSkills @jabdulai) when her desire was twittered live.
The platform offered the mentees much information and education on how to make informed choices and also discuss issues affecting their lives especially the vulnerable teenage girls. The mentors raised awareness on Sexual and Gender-Based Violence and Harmful Practices (SGBVs&HPs) and the culture of silence associated with these norms.
A happy and exuberant, Mamata Musah said "I would be a famous Muslim medical doctor, if I could wake up tomorrow having gained any one great skill in my life"
 "I dream of becoming a surgeon in future" says a dreamy and tranquil Samira Asantewaa Asiedu
Similarly, "I dream to become the first female President in Ghana, I would also be thrilled to have the opportunity to always help people in need ", declares an ambitious Najat Musah"
Revealing treasured memories ,Mustapha Savata said" it was when my mum told me not to date any guy because that can lead to sexual activities, I look forward to be a nurse in future , I have great passion for it.
After an active and insightful mentoring session Samira Bawumia concluded by encouraging the girls with these words, "intensify your efforts and you will surely make it. Break the walls of silence around the myth that you can be married off by your parents whiles still under age because they are your parents. Report cases of sexual abuse and by doing so, we can effectively be a voice for the voiceless in our society".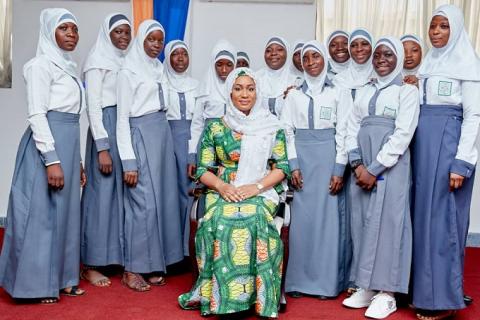 The mentoring session was organized by UNFPA Ghana in collaboration with Samira Empowerment and Humanitarian Projects and support from the Canadian High Commission. It is the beginning of series of mentoring sessions to be held with Muslim Adolescent girls to ensure they are well informed and can make their own choices in life.