As one of the transformative goals of UNFPA, eliminating Sexual & Gender-Based Violence (SGBV) remains a priority. November 25-December 10 always gives impetus to this goal, since during the period, the world observes the 16 Days of Activism Against SGBV. Ever since its initiation, it has been of great interest to UNFPA.
This year, the Ghana Country office of UNFPA took its activism efforts a step further when its Youth Leaders--the YoLe Fellows, put together a night vigil on the last day of observance of the 16 Days of Activism Against SGBV.
From the premises of the Ghana Country Office, they went on a procession to Danquah Circle in Osu--a notable landmark in Accra, where they held a vigil. It was both a solemn and reflective night. But it was also filled with enthusiasm and glee that is characteristic of young people.
The evening was a spectacle to behold; seeing the fellows and other youth groups all clad in orange; with some holding lanterns and others placards which had words artistically and boldly written on them. Some of the displayed messages included: "End gender-based violence NOW!", "I am human, not a punching bag", "Marrying me off when I'm not 18 is a violation of my human rights" and "Believe victims when they speak up", amongst others.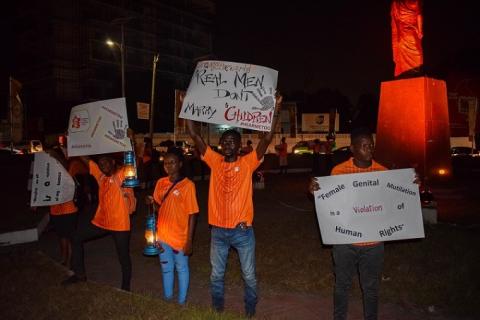 The statue in the middle of the Danquah Circle roundabout was no exception, it was lit up in orange colours, which is represents 'Gender Equality' the 16 Days of Activism across the world.
The YoLe Fellows were joined by staff of UNFPA Ghana and other young people from youth-led organizations; Curious Minds-Ghana and the Youth Action Movement (YAM) of Planned Parenthood Association of Ghana.