This year, as World Humanitarian Day (WHD) is commemorated globally, the spotlight is put on health workers who continue, despite the odds, to provide life-saving support and protection to people most in need. One of these health workers who works tirelessly to assist pregnant women deliver babies in Mankessim in the Central Region of Ghana is Agnes Aidoo.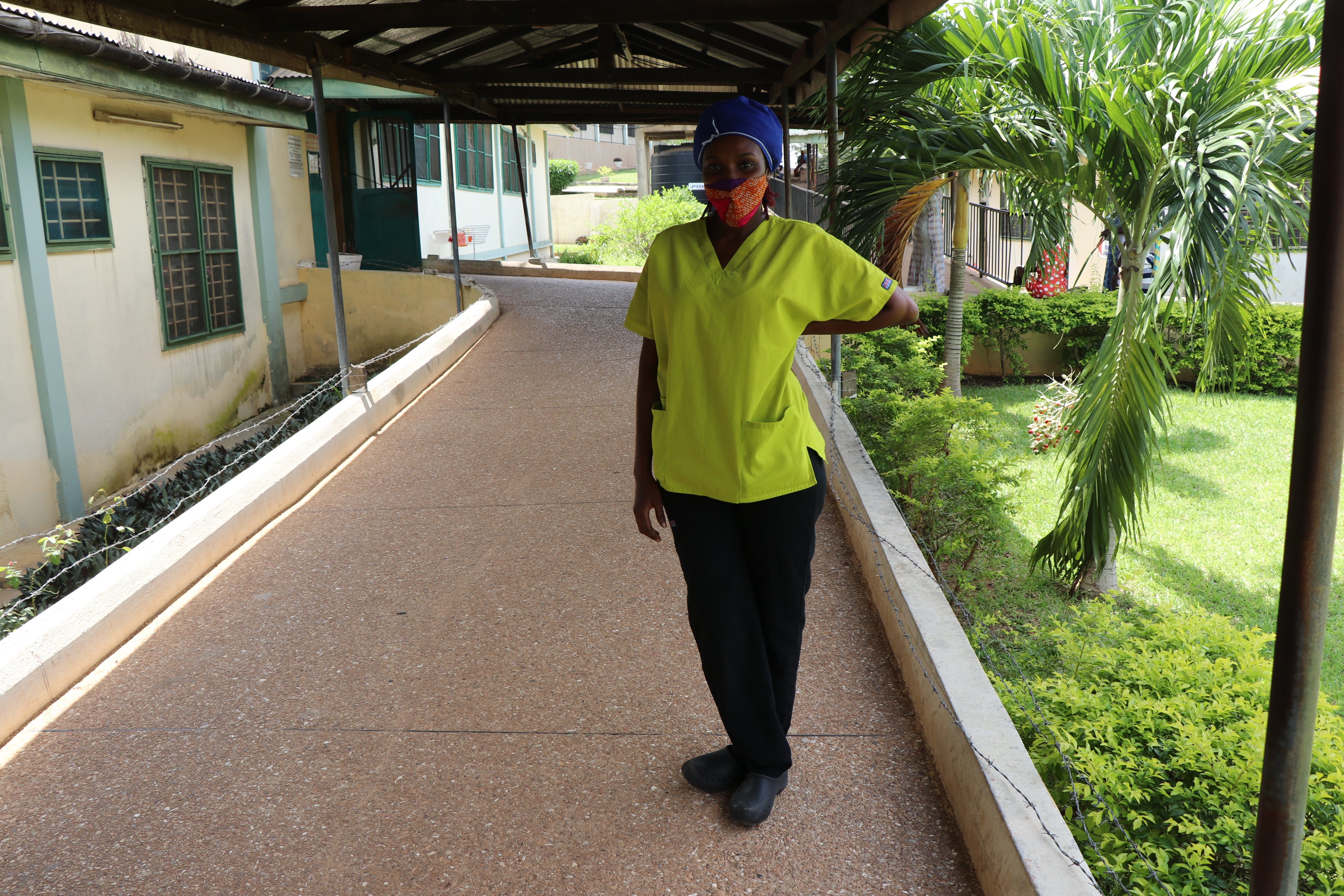 Agnes corroborates a statement Dr. Natalia Kanem, UNFPA Executive Director made in this year's WHD press release: "Not only do health workers face exposure to the deadly coronavirus, but they are also enduring a rising tide of violence, with attacks driven by fear and misinformation", by stating that, "...at the beginning I was scared …" but through comprehensive education via the media, her fears have been allayed.
Amid the COVID-19 pandemic, Agnes goes to the Mercy Women Catholic Hospital, where she works, on a daily rotational basis to essentially ensure that maternal and neonatal mortalities are a thing of the past.
Miss Aidoo admits that the COVID-19 pandemic has taken a brunt on maternal health care delivery such as antenatal and postnatal care. According to Agnes, antenatal care is currently being provided to women on a shift system because staff strength has reduced from five midwives on duty to two or three. "At first you are able to get close to a patient in pain and that closeness alone gives some psychological relief, but now because of social distancing protocols, there has to be a two-meter gap between the midwife and the patient. For you a midwife who really cares, in such circumstances, you are forced to 'break' the COVID-19 safety protocols to avoid losing a life", Ms. Aidoo exclaimed. "Sometimes people come in as emergencies, without a face mask but we still have to attend to them", she concluded.
This year's World Humanitarian Day cannot be commemorated without acknowledging the hard work of humanitarian aid workers, particularly women and women health workers like Agnes, who are always on their toes to ensure that no woman dies while giving life.
You are the real-life heroes!  Indeed, "saving lives has never been more harrowing".