On 15th May, which marks International Day of Families, UNFPA Ghana joined the nation to celebrate the health workers and patients at the COVID-19 isolation centre housed at the Pentecost Convention Centre, which is located at Gomoa-Fetteh in the Central Region. As the case-count of the coronavirus disease increases, so is the pressure on frontline health workers who have made the difficult decision to protect their families and communities by staying away from them. For some, going home to see their families now seems to be more of a privileged than a right.
During a visit to the centre to donate some dignity kits to the facility, the UNFPA Representative, Mr. Niyi Ojuolape acknowledged the huge sacrifices being made by health workers to leave their families to cater to the needs of COVID-19 in-patients. This is especially significant and laudable because in doing this, they are putting their own well-being on the line for that of others. In congratulating them he said, "We appreciate all your efforts and sacrifices, and know that, you have a family in UNFPA Ghana".
Dr Akosua Ayisi, a resident health personnel at the centre, expressed profound appreciation to UNFPA on behalf of all staff members, for the care and support in this time of crisis. She went on to encourage everyone to continue to show love to COVID-19 patients, including those who have recovered, while acknowledging their bravery in accepting to receive treatment at the isolation centre. She also called for a stop to stigmatization against those who have recovered, as this does not auger well for the society as a whole.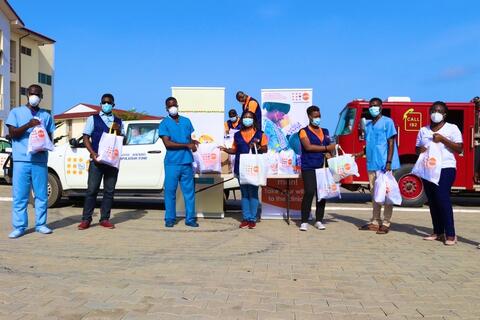 In sharing her personal experience, Dr. Ayisi mentioned the frequent calls she receives from family and friends whose concern is that she might contract the virus. She noted that it was indeed a very difficult situation for her, and her colleagues, since they are unable go home to reassure their families. However, she mentioned that they were gradually adapting to the new system and their families are becoming more understanding. "We still have family time via digital media such as voice and video calls", she added.
She advised all Ghanaians to continue observing the precautionary measures in order to avoid contracting the disease, and help to reduce the growing pressure on the health systems.