UNFPA Ghana still in the pursuit of ensuring an enabling environment for women and girls to thrive has supported the Ministry of Gender, Children and Social Protection (MoGCSP) with equipment to enhance the efficiency of their work in promoting Gender Equality and the welfare of children.
The donation was in response to an earlier request by MoGCSP. The items donated included; a set of computers and accessories as well as furniture were given out to improve upon the working environment for the frontiers of the fight against domestic violence here in Ghana.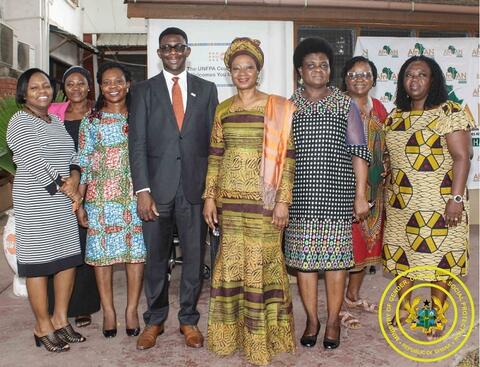 Niyi  Ojoulape, UNFPA Country Representative presenting the items to the Gender Ministry said they will go a long way to support the coordination of issues of  Gender equality and empowerment of women as well as the fight against sexual and gender based violence in the country. Receiving the items on behalf of the Ministry, Dr. Afisah Zakariah the Chief Director thanked UNFPA their support to the Ministry over the years and particularly with the current "Gliz, Girlz" TV series which seeks to empower the  adolescent girls and pledged that the items will be put into good use.