Young People launched the 16- days of activism campaign against gender-based violence at Danquah Circle in Accra. The annual campaign against sexual and gender-based violence runs from November 25, the International Day for the Elimination of Violence Against Women, through to December 10 which is Human Rights Day.
The theme for this year's campaign is; " Orange the World: End Violence Against Women Now!"
As part of the national activities to mark the sixteen days, Young People led by the Youth Fellows of UNFPA Ghana (YoLe) held a solemn procession from the offices of the UNFPA to the Danquah Circle in Osu, clad in orange paraphernalia, held a night vigil and lit up the roundabout, displaying placards with relevant anti-SGBV messages to motorists, commuters and passer-biers.
Speaking at the launch, the Resident Representative of UNFPA, Mr. Niyi Ojuolape stated that this year the United Nations wants to lay emphasis on violence online. He said gender-based violence and its consequences are increasingly overlapping in both physical and digital worlds as our online and offline lives become more interwoven. He reiterated that in-person violence and perpetrators of intimate partner abuse, stalking, sexual harassment is now employing digital means such as social media and GPS tracking to wreak harm. He applauded the joint effort of the government and UNFPA in establishing the Orange Support Centre to provide the needed services for victims and survivors of Gender based violence.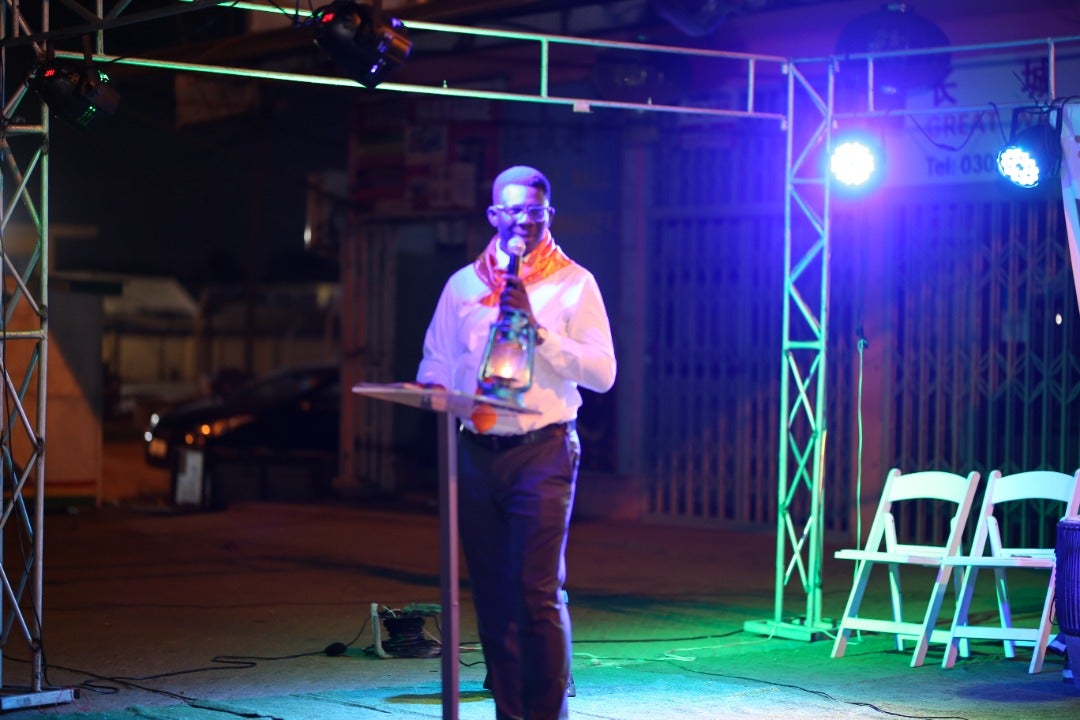 He used the platform to encourage Ghanaians to speak up and call the toll-free line; 0800 111 222 to report any form of gender-based violence.
The Assembly Member of Osu Ring Way Electoral Area, Mr. Erasmus Odartey in his address stated that it is time to move from awareness to action. According to him, the statistics were on a rise in his community during the pandemic. He expressed his gratitude to the UNFPA Ghana team for the support during the peak of the pandemic and urged them to keep up the momentum on awareness creation throughout the Osu township.
Ms. Ifeoma Charles-Monwuba, Chairperson for the UN Gender Team and the Guest of Honour explained the #NoManel campaign to the gathering. She said for a country like Ghana that has qualified females in all spheres, it is only prudent to have these women seated on every decision-making table. She advised that to ensure gender balance, everything in the society should be seen from a gender lens. Some members of community signed pledges to support the United Nations in Ghana #NoManelCampaign. This is an initiative by the United Nation System in Ghana, under the leadership of the Resident Coordinator and supported by the United Nations Gender Team (UNGT), as they jointly say NO to All-Male Panels. The campaign is to ensure the participation and representation of women at meetings and processes in Ghana.