The 2nd African Youth SDGs Summit saw one of its most energetic plenary sessions during the UNFPA-organised discussion on the youth imperative in the course of achieving Agenda 2030. The plenary session, titled, Youth 2030: "No SDSs without Us", featured four young people, John Armah (Ghana), Grace Gambi (Malawi), Ivy Barley (Ghana), Mitterand Okorie (Nigeria), and winner of Prof. Babtunde Osotimehin Essay Competition, Jean-Phillip Lawson, serving as moderator of the proceedings.
Before the panel sat for discussions, the audience were entertained by the Erica Tandoh (DJ Switch), famed 10 year old DJ, who had time to share her aspirations to stay educated and become medical doctor, combining as it were her love for music and adulthood dreams.
The theme of the panel discussion centred on why young people are strong components of achieving the SDGs, the barriers they faced in reaching this goal, ways in which they can provide solutions to problem of gender inequality and what their expectations are moving forward.
"If we approach Agenda 2030 with a sense of entitlement, we would be left behind, but if we keep knocking on the door, we would go very far," said, John Armah, as he reckoned to the audience the importance of taking nothing for granted in terms of holding policymakers to account and ensuring that youth-centred policies receive urgent implementation. More so, it was important, he continued, to pre-empt policies and activities in which governments were yet to design but which are pertinent for youth, and take up such initiatives while calling their attention to same.
In line with that concern, Grace Gambi noted how she, in her capacity as a volunteer to drive solutions in youth-centred NGOs her country have had to grapple with paucity of funds, and why governments across Africa needs to strengthen the capacity of these youth-centred NGOs to achieve their objectives.
Ivy reflected on the readiness of the youth to undertake activities that helps in closing the gender gap, especially at a time where ICT and STEM skills are highly sought after. Having co-founded the NGO, Developers in Vogue, she noted on the impact teaching young women STEM skills through her platform can have on society. In addition, she reckoned on the importance of these spaces in providing not only ICT skills but also as place of providing mentorship and leadership training to young girls and women also.
Similarly, Mitterand Okorie, who recalled his experience as a communications person serving the UN Youth Envoy, Jayathma Wickramanayake on her first Africa Mission, noted that the readiness of young people in Africa to be at the front of driving solutions to their problems is palpable all across the continent and that the success of the Not Too Young to Run movement in Nigeria points to how young people are leveraging on social and new media to drive solutions to their problems.
The general consensus among the panellists was that the capacity of young people to go ahead and achieve more in terms of driving change in society can be enhanced and amplified when government at all levels create the enabling environment and provide an institutional framework where youth are not just enablers of solutions but core partners in implementing the youth agenda.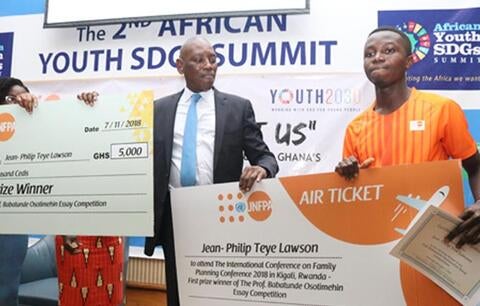 The panel session was capped by the Regional Director. Mabingue Ngom presenting the award to winners of the Prof. Babatunde Osotimehin's Essay Competition which was advertised in June 2018. Ten consolation prices were given and the top three winners were announced. The second runners-up. (Edward Mensah Nketsiah) won 2,000 Ghana Cedis with an iPhone, the first runners-up (Akosua Agyepong) won 3,000 Ghana Cedis with an iPad, while the first prize winner (Jean-Phillip Lawson), was awarded 5,000 Ghana Cedis with an all-expense paid trip to the 2018 Family Planning Summit in Kigali, Rwanda.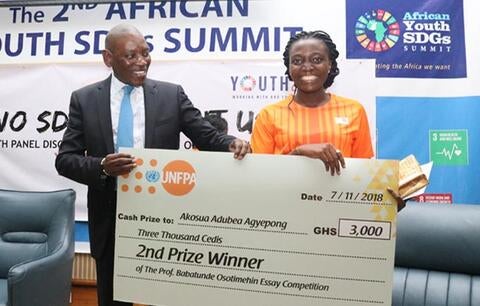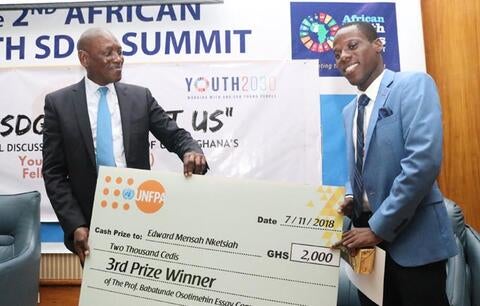 The Regional Director reiterated further on the legacy of Prof. Osotimehin and his life's commitment to the ensuring the preservation of young people's rights and the importance of providing them with social, economic and political opportunities to excel.